Come try our swim lesson program on Sunday, June 11th at Sportime Kings Park!
We are offering FREE, one on one private swim lessons with one of our certified instructors between 9AM and 3PM. All you have to do is fill out the form below and we'll get in touch to finalize the details!
The primary goal of our swim lesson program is to provide a positive teaching environment to show swimmers the necessary skills to be safe and have fun in and around the water.
Here are some of the key principles of our swim lesson program:
1. Qualified instructors: Each swimmer will be working with a patient, enthusiastic, certified swim instructor that has the training and experience to provide transformational swim lessons to each person they work with.
2. Structured curriculum: Each instructor brings their own teaching style, the knowledge they've gained as an American Red Cross trained swim instructor and builds each lesson to help each swimmer move towards the specific and unique goals that they have.
3. Safety first: Each lesson is designed from a safety mindset. Every skill is broken down to its simplest compotent, then built up while ensuring safety every step of the way. This includes teaching them how to properly enter and exit the water, how to recognize and respond to potential hazards, and how to swim in a safe and controlled manner.
4. Emphasis on fun: While safety is a top priority, our program is also fun and engaging for participants. This includes incorporating games and activities into lessons that help develop skills while keeping participants interested and motivated.
5. Positive reinforcement: Our instructors use positive reinforcement techniques to encourage participants and build their confidence. This includes praising participants for their efforts and accomplishments, setting achievable goals, and providing constructive feedback.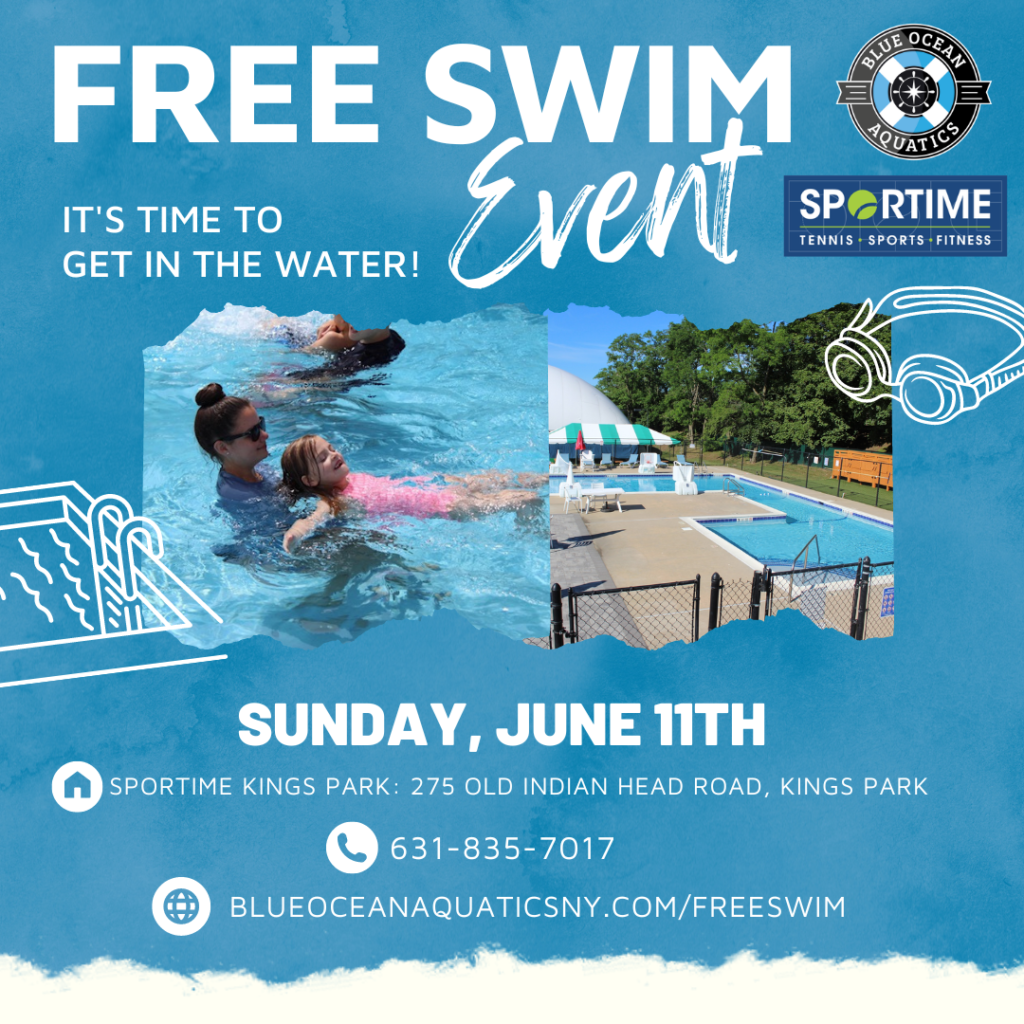 GET 10% OFF AT THIS EVENT
As a special bonus for swimming with us, you can receive 10% off one of our programs.
Sign up for a package of private, 1:1 swim lessons, group lessons, or our swim bootcamp at 10% off!
This only is valid for those participating in the event and expires at the end of the day on June 11th.
FILL OUT THE FORM BELOW TO SECURE YOUR SPOT
*We are FULL from 9-1PM. We are now taking reservations for 1:30-3:00PM. Please note if you'd like to be put on the waitlist for an earlier time*