Looking for your American Red Cross certification?
No need to endlessly hunt through emails or dig through your papers. The American Red Cross has made a simple online system to find your certification. All you need is your name and the year you took your course!

Here is how to easily find your cert –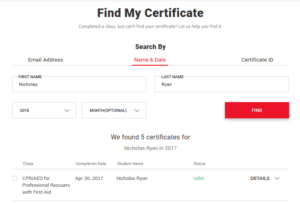 Choose one of the three search options
Enter the appropriate information
Select Find
Click the checkbox and scroll down
View and Print or Download
Which option is the easiest?
The most effective option seems to be the Name and Date search option. It will show all certifications within the specified year based on the name entered. No need to remember what email you used or anything.
What if multiple certifications pop up?
There might be others with your name that took an American Red Cross course. Check to the location, instructor and certification date to make sure you have the correct certification.
Still can't find your certification?
We would be happy to help out if you have having trouble. You can call us at (631) 835-7017 or email [email protected].